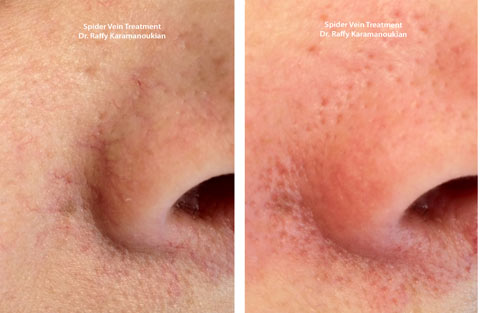 If you are looking for one of the nation's leading experts in facial vein and nose vein treatment...Look no further. Dr. Raffy Karamanoukian is a double board certified plastic surgeon and vein surgeon who has been featured on national television demonstrating his laser-based approach to vein treatment. He has been featured on The Doctors and Fox TV regarding the use of pulsed dye laser for spider vein ablation around the eyes, cheeks, and face.

Around the nose, especially on the corners of the nostrils, men and women may develop small spider veins or nose veins that can make the skin look blotchy and uneven in complexion. These small red and purple spider veins may be a normal process, or may be associated with rosacea, chronic allergies, and even sinus problems. The small spider veins may also be found on the cheeks and forehead areas in association with the nose. Regardless of the location on the face, these broken capillaries are known as facial veins.

In our Los Angeles vein clinic, we offer the most state-of-the-art options for facial spider veins and facial redness. The most effective laser to date is known as pulsed dye laser and this procedure can effectively eliminate unwanted veins with laser energy. Downtime is minimal with laser facial vein removal and most patients are good candidates, regardless of their skin color.